Casino Bus - Cripple Creek Colorado
Rambling Express is the easiest way to get to get here. It's the casino bus to Cripple Creek, Colorado that takes the worry out of the drive, weather, traffic ... everything! You just sit back and enjoy the view.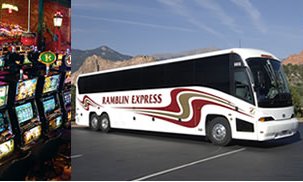 Rambling Express provides a round-trip fare that includes up to $25 with minimal qualified play t a sponsoring casino. Pueblo riders can get up to $30 back! For more information and to buy tickets online:
Casino Bus - Cripple Creek Colorado
Top Ten Reasons to Ride
-the Casino Bus to Cripple Creek, Colorado.
1. Value. Most, if not all, of your nominal round-trip fare will be reimbursed by sponsoring casinos, in return for you giving them 30 minutes or so trying your luck on their slot machines and table games.
2. Comfort. Sit back, relax, and enjoy the ride and scenery. Or simply take a nap. Our luxury motor coaches are equipped with reclining seats, individual temperature controls and a restroom.
3. Convenience. Park-and-ride Depots from Pueblo, Colorado Springs, Woodland Park offer daily shuttle service to Colorado Casinos, with departures every hour or two. No reservations needed - your seating is guaranteed, or your ride is free.
4. Optional Return Ticket. Don't worry about cutting your time short - especially if you are "on a roll or hotstreak" - you can stay and play as long as you'd like. Leave on any shuttle, even the next day.
5. Discounted Online Ticket Vouchers. For a limited time, save $5 on our already low fares by advance purchasing your tickets online. You can use them anytime for yourself, or to give as a unique gift. Buy tickets now.
6. Professional and Experienced. Ramblin Express knows this business, and knows the mountain roads. More than 2 million passengers have ridden with us since 1993. We have safely "made the trip" more than 100,000 times, and counting.
7. Be Green. Our motor coaches take hundreds of thousands of automobiles off the roads every year. Motor coach transportation actually achieves the highest passenger miles per gallon of all available transportation options. You'll be relieving traffic congestion as well as lowering carbon emissions. Learn More.
8. Make New Friends. Taking our shuttle has long been known by our "regular riders" to be a social affair. Grab a friend or two, or meet some new friends on board if you want to.
9. Don't Drink and Drive. It's a windy two-lane road into Cripple Creek. Let us be your designated driver. Upon request, we will gladly call a friend or a cab for you upon return to our Depots.
10. To Get to Work, On-time. A substantial, important, and growing percentage of our customers are casino employees who rely on us to get to work every day, on-time. Most casinos subsidize our discounted employee passes to their employees, through their human resources / benefits departments.


Happy Riding and Good Luck!
Back to the Getting Here page

Back to the Home page