Restaurants in Cripple Creek, Colorado
The Restaurants in Cripple Creek, Colorado have you covered with a variety of casino dining options and some interesting eateries away from it all! But there's something about gambling and high altitude that can make you really hungry. Casino Restaurants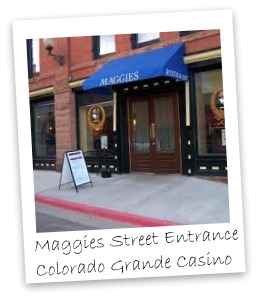 Live it Up!
FREE Food! If not free then very inexpensive. With comp points, special offers, and coupons you can celebrate special occasion or enjoy casual fare and snacks on the go!
Comps - Squeezing Every Drop coming soon!
Interesting Eateries
There's a lot more than casinos.
Bennett Station
429 East Bennett Avenue (719) 689-2898
The Boiler Room Tavern at the Hotel St. Nicholas
303 N. 3rd Street 719-689-0856 or 888-786-4257
www.HotelStNicholas.com
Crawdaddies - Authentic Cajun
124 West Bennett Avenue 719-689-9779
Jackass Cafe and Ice Cream Parlour
227 W. Bennett Avenue 719-689-3900
Ralf's Break Room
411 E. Bennett Ave. 719-689-9195
Coffee Break?
There's nothing like a good cup coffee or tea.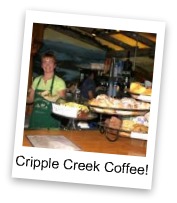 Creations Everlasting Tea Room
123 E. Bennett Ave. www.CreationsEverlasting.com
Cripple Creek Coffee in the Aspen Mine Center
166 E. Bennett Ave. 719-689-2223
www.cripplecreekcoffee.com
Jack's Coffee Bar
in the Colorado Grande 719-689-3517
www.coloradogrande.com
Prospector's Perk Coffee House in the Double Eagle
440-442 E. Bennett Avenue 719-689-5016
www.DECasino.com






Back to the Home Page