Travel to Cripple Creek, Colorado
Travel up to Cripple Creek! It's consistently rated as one of Colorado's Best Day Trips. The drive includes some of the most incredible scenery in the Rocky Mountains and there's a lot to see along the way.

Gold Belt Tour
The Gold Belt Tour is actually 3 routes between Highway 50 around Canon City and West Highway 24 at Florissant. The High Park Road is an easy, scenic drive. The Shelf Road and Phantom Canyon are more extreme. All in all it's 131 miles or gorgeous! Gold Belt Tour


Road Trip!
The drive up the hill to Cripple Creek, Colorado can provide challenges for a driver unaccustomed to mountain travel. The city, casinos, and county personnel work hard to maintain safe roads but mother nature and human nature can change the game. Please Be Careful.
Google Map - Travel to Cripple Creek, Colorado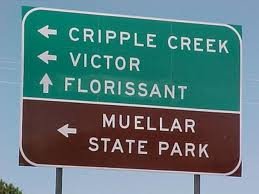 Colorado Department of Transportation - Travel Center provides current information about all road conditions. Check out the COTRIP link for live-streaming images from around the state. ColoradoDOT Link

All Aboard the Casino Bus
So what's the easiest way to Cripple Creek? Take the bus. Then you don't have to worry about anything; and you get paid to take the trip. Most casinos redeem bus coupons if you play at their machines.

Casino Bus Info and Link - click here

Gimme a Ticket for an Airplane
The options for airlines that fly to Cripple Creek are none. So that was easy. Airports close by range from the very small in Colorado Springs and Pueblo to the largest airport in Colorado - Denver International. Airport Information and Links - click here

BUZZ Travel Links
Check out Joe & Ed's travels at touringbikers.com
Touring bikers, It's not the destination.......It's the Journey.




---
Back to the Home page - Travel Safe!