Gold Belt Tour - Scenic Byway
The Gold Belt Tour is 131-mile circuit that tours historic Cripple Creek, Florence, McCourt, Adelaide, Wilbur, Victor, and other former gold camps. It was designated as a National Scenic Byway in 2000 by the U.S. Secretary of Transportation - one of only ten designated in Colorado. Total driving time is about 5 hours for the entire trip.
Three Routes of the Gold Belt
There are 3 roads that make up the Gold Belt Tour that runs between Highway 50 around Canon City and West Highway 24 at Florissant.
Official CDOT - Gold Belt Tour
High Park Road
An easy drive between Florissant and Canon City. The Fossil Beds National Monument is well worth a stop. Along the way there's wildlife so be on the look-out especially in the early morning and around dusk.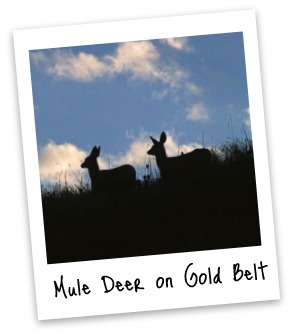 Shelf Road
The Shelf Road can get narrow and rugged in places as you cling to a canyon wall 200 feet above the stream bed.
The payoff comes in the outstanding scenery: majestic Pikes Peak, the unspoiled Beaver Creek Wilderness Study Area, spectacular Royal Gorge, and miles of high-country beauty. Thanks Jeepster Gal!
Phantom Canyon
Phantom Canyon is officially the continuation of State Highway 67 but after Victor - you're hitting the dirt. Phantom Canyon is the adventurous way to Hwy 50 and Canon City. Check it out for yourself!
Thanks for ride LaOutbackTrail. You are an excellent driver!




Back to the Home page