Cripple Creek, Colorado - CASINO LIST
The Casinos in Cripple Creek, Colorado combine old time charm with modern gaming fun! High stakes are 24/7 - 365 days a year. There's something for everyone and for every level of play.
J-A-C-K-P-O-T-atoriums!

Big Jim's Casino - Opening Soon!
Inside the Imperial Hotel. More details to come.
---

Bronco Billy's, Buffalo Billy's, and Billy's Casinos
233 E. Bennett Avenue Cripple Creek, Colorado
719-689-2142
Restaurants
Home Cafe -Open every day 24 hours with 49¢ breakfast 2am to 11am. $2.99 steak and eggs all day - every day. Clam chowder on Fridays.
Steakhouse - fine dining 2nd level Bronco Billy's Thursday & Friday from 4pm-10 pm, Saturday 2pm-10pm, Sunday 1pm-9pm Reservations recommended
Baja Billy's - mexican cuisine 2nd level of Billy's, open from noon to 8 pm Sunday, Wednesday, and Thursday and noon to 9 pm Friday & Saturday.
Bar 5 - shrimp cocktail for $1 all day every day.
Hotels
Bronco Billy's Hotel
Hotel St. Nicholas
---
Century Casino & Hotel
200 E. Bennett Ave. Cripple Creek, Colorado
719-689-2646 / 800-235-8239
~Many still call it Womacks
Restaurant
Hotels
---
Colorado Grande Casino and Hotel
300 E. Bennett Ave. Cripple Creek, Colorado
719-689-3517
Restaurants
Maggie's Restaurant - very family friendly and kids are welcome. Place pickup orders, call 689-3977.
Hotel
The Colorado Grande - There are 7 Lucky Rooms. Book early.
Call about group sales and meeting rooms
---

Double Eagle Hotel & Casino and Gold Creek Casino
400 - 422 E. Bennett Ave. Cripple Creek, Colorado
719-689-5000 / 800-711-7234
Restaurants
Lombards - family friendly and casual.
Winfield's - fine dining.
Parrot Dice Grill - relaxed atmosphere
Double Scoop Ice Cream Parlor - only thing better is the triple scoop parlor.
Prospector's Perk Coffee House - really good coffee
Hotel and RV
The Double Eagle Hotel - check out the Get Away packages
Eagle's Landing RV Park
Shopping
The Double Eagle Gift Shop
Cripple Creek Outfitters
Call about group sales and meeting rooms
---
Johnny Nolon's Saloon & Gambling Emporium
301 E. Bennett Ave. Cripple Creek, Colorado
719-689-2080
Restaurants
Johnny Nolon's - daily and senior specials
Hotel
Check for their local area hotel specials
---
Brass Ass, JP McGills, & Midnight Rose
Collectively known as the Triple Crown Casinos:
232 - 256 E. Bennett Ave. Cripple Creek, Colorado
719-689-2104
Restaurants
The Miner's Pick- open 24/7 lower level of the Brass Ass
Down Under - fine dining featuring delicious seafood and Sunday brunch buffets lower level of the Midnight Rose
Dynamite Dick's Dining Emporium - Midnight Rose 2nd floor, open Sunday to Thursday 7am till Midnight, 24 Hours on Friday and Saturday
JP's Pint & Platter - where else? JP McGills. Hours: Monday -Thursday 11am till 10pm, Friday 11am till 11pm, Saturday 8am till 11 pm, Sunday 8am till 10pm.
Hotels
JP McGills and Midnight Rose Hotels - standard rooms to suites right above the action
Call about group sales and meeting rooms
---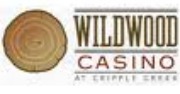 Wildwood Casino
at the Gateway to Cripple Creek
119 Carbonate Street
1-877-945-3963
Restaurants
Ruby Tuesdays - Monday thru Thursday 11am – 10pm, Friday and Saturday 11am – 11pm, Sunday 11am – 9pm
Saddle Bar - Featuring Colorado's best microbrews daily from 7am to 10pm. $5.95 breakfast buffet from 7am until 11:30am every Saturday and Sunday.Must present Miner's Club card. Show your military ID and get 50% OFF your entrée every day.
Fireside Kitchen - quick bites Sunday to Tuesday 10pm–2am and Wednesday to Saturday 10pm–7am
Donut Mill - fresh donuts, pastries, muffins and ice cream open daily at 7:30am. Two for the Price of One Happy Hour Donuts 7pm-9pm every day.
Hotel
Gold King Mountain Inn - spacious rooms, fitness facility, pool and spa. Standard rooms and deluxe Jackpot rooms with your own private whirlpool tub and fireplace. Group rates and great all-inclusive package deals available.
Call about group sales and meeting rooms



Back to the WEEKEND Calendar - Click here

Back to the Calendar for WEEKDAYS - Click here





Back to the Home page - click here