Donkey Derby Days
How it Started in Cripple Creek, Colorado
Donkey Derby Days in Cripple Creek, Colorado was started as a way to bring some life back to the little town. In the 1930s, production in mines all but stopped and most had closed. People and the animals lost their jobs. Many donkeys were simply released to freedom.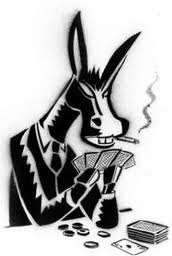 Roaming around town, the asses turned to drugs and alcohol to escape their problems. One specific ass was convicted of a ponzi scheme and was sentenced to 25 years in the pen. Ok, that last part had a horrible pun, questionable content, and is probably not true.
How About an Event?
So people and donkeys are out of work and business was slow; very slow in the 1930s. Charles Lehew, David Lynch, along with the other business owners in Cripple Creek and Victor came up with an idea. Genius really. They formed the Miles High Club to plan and develop their idea into an event that might attract visitors. It worked.
Let's Call it "Pin the Tail on the Donkey"
No, let's not. Donkey Derby Day is a much better name. The first was on August 15, 1931. It was a tremendous event with special guest Governor William Adams who was Grand Marshall for the festivities. Competitors from all over the country run in races - if they feel like it. Back then, the event had many different types of races with riders. These days, there are no riders because, well...it's politically incorrect.
Donkey Derby Days - Held in June
The event proved so popular that today, it is a two-day jamboree held in June as a kick-off to the summer season. It is the most popular of all the events held throughout the year. Admission is always free!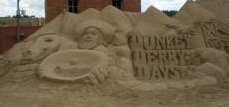 Incredible Sand Art Created for Donkey Derby Days
Along with the races and amazing sand art, there are family activities, entertainment, casino events, lots of vendors, and a ton of food. Watch for more information as the event date gets closer.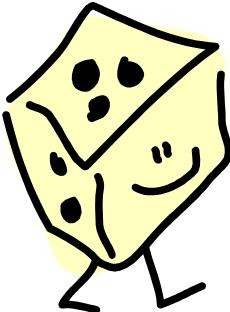 BUZZ about it.
Go to the Events page - click here.


Check out the dates of important events with the "actual and official" Cripple Creek Events Poster:

specifically, Donkey Derby Days

Back to the Donkeys page - click here